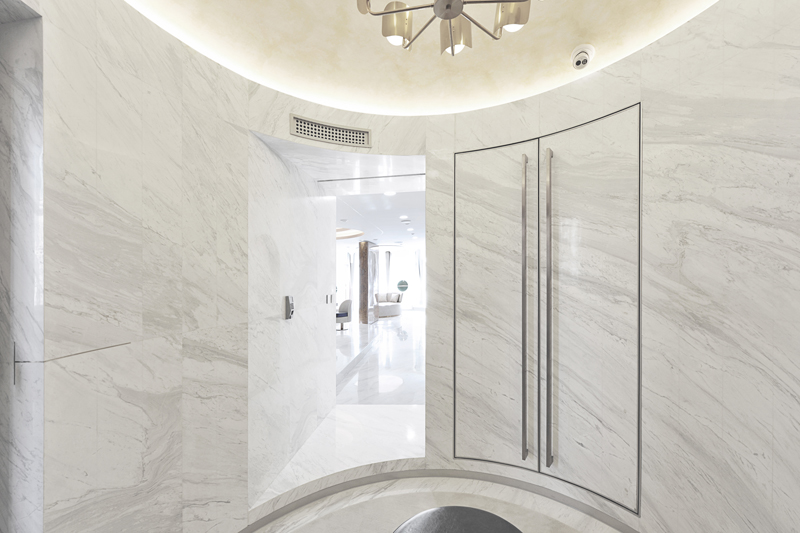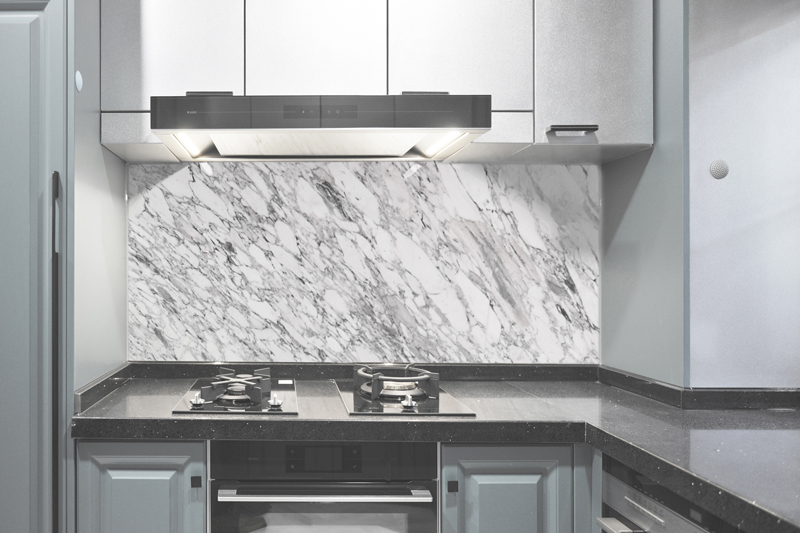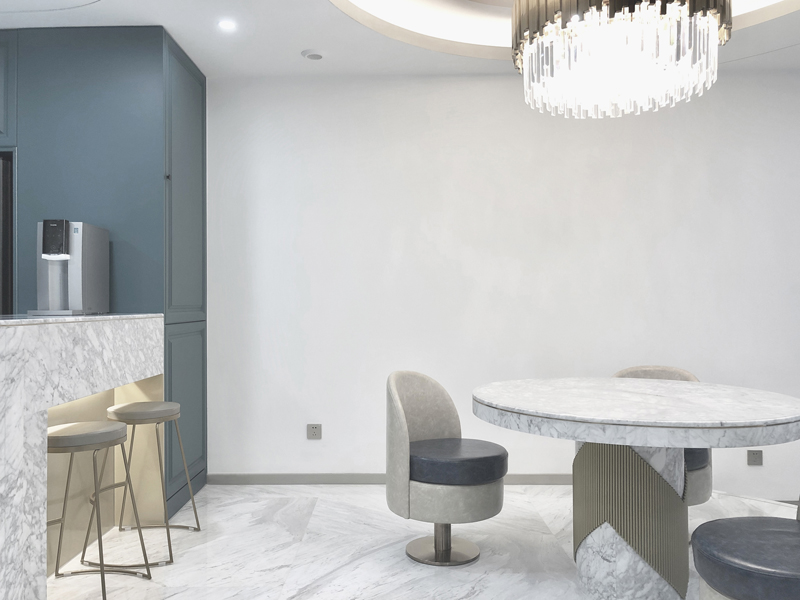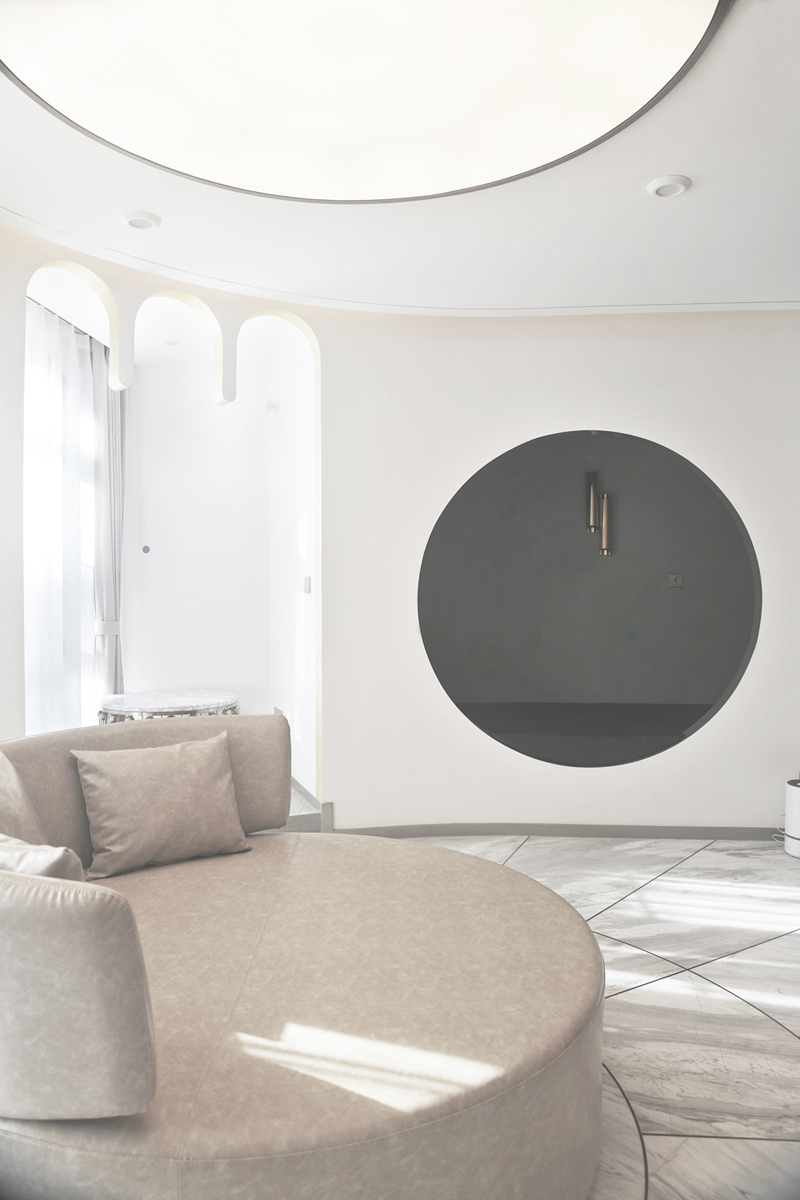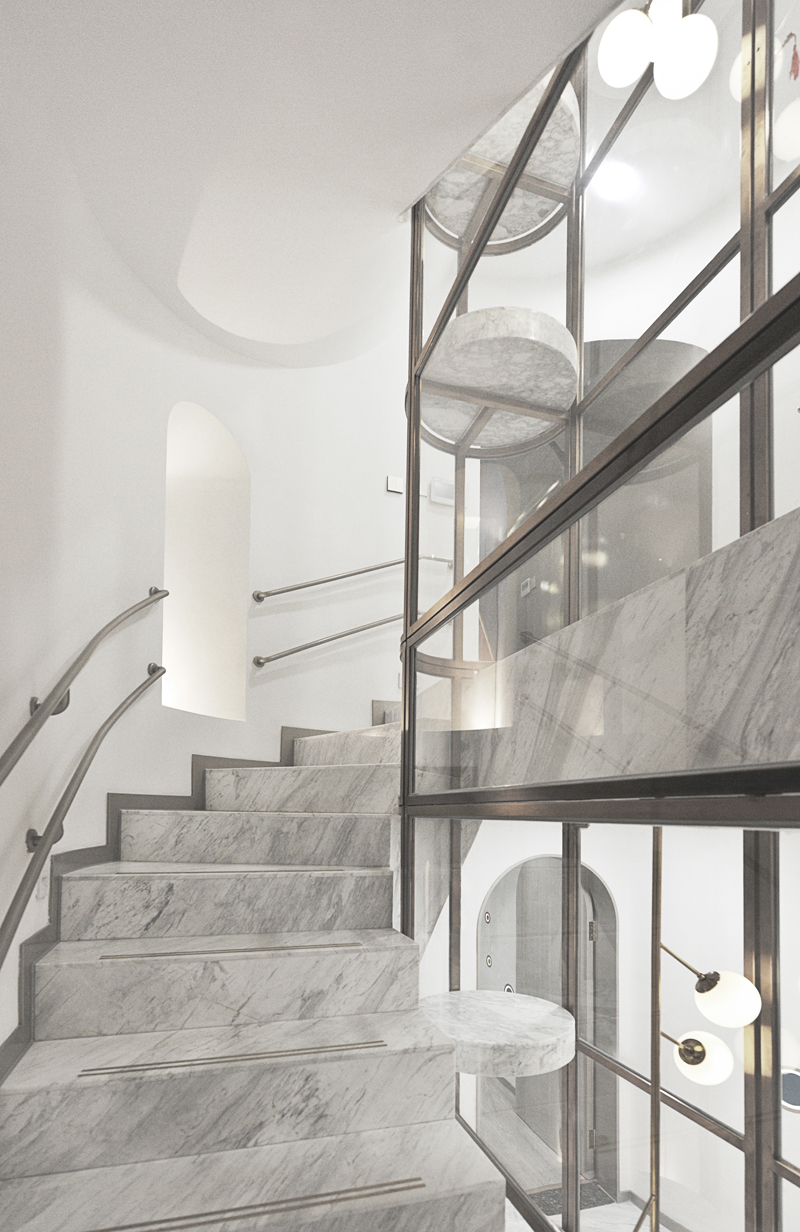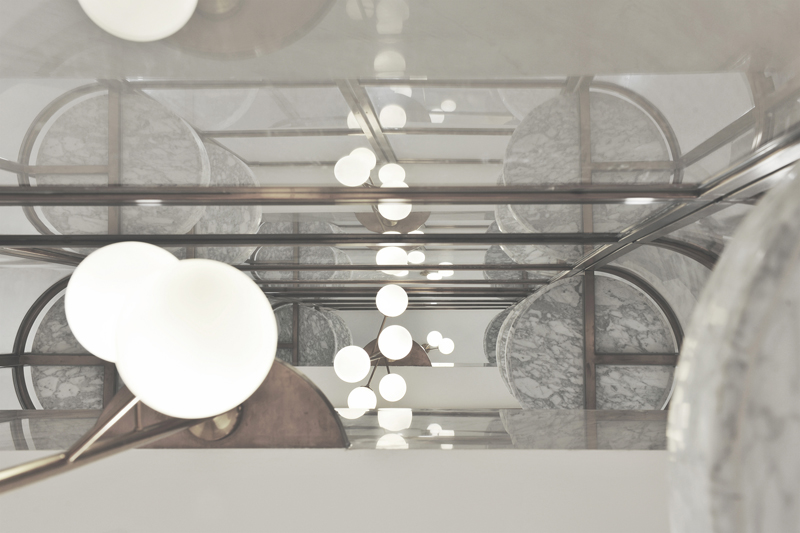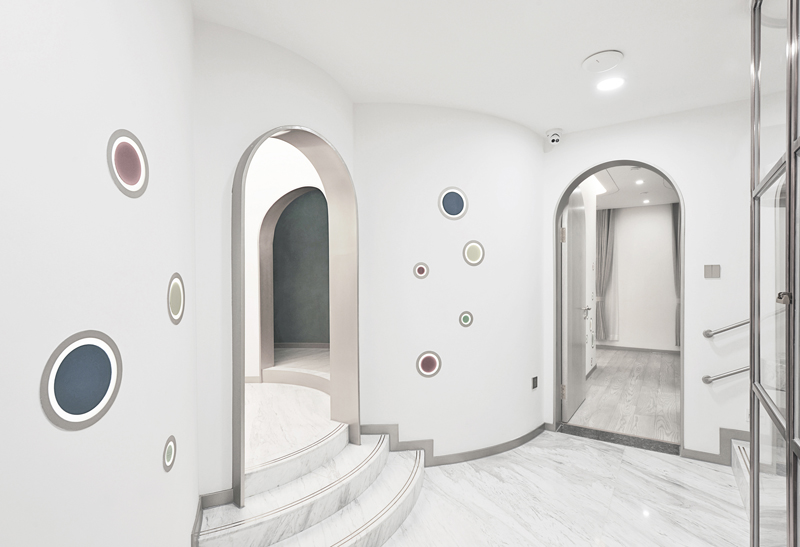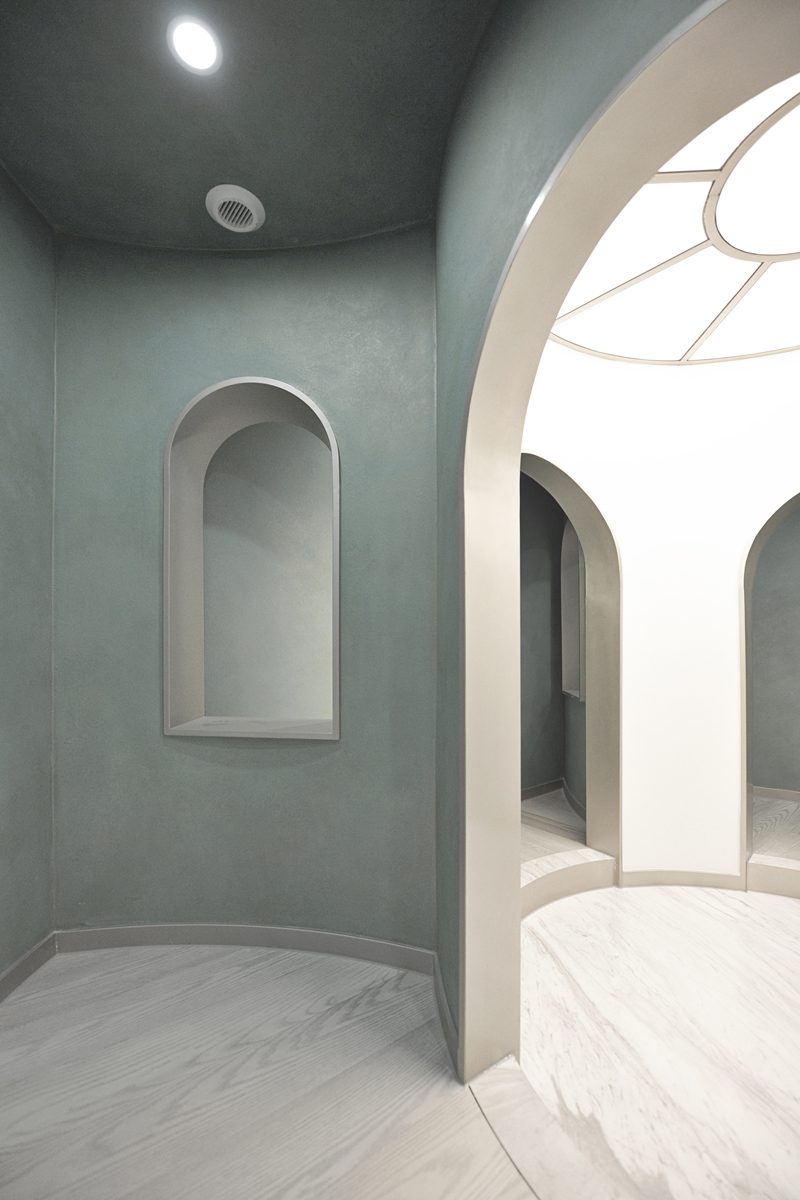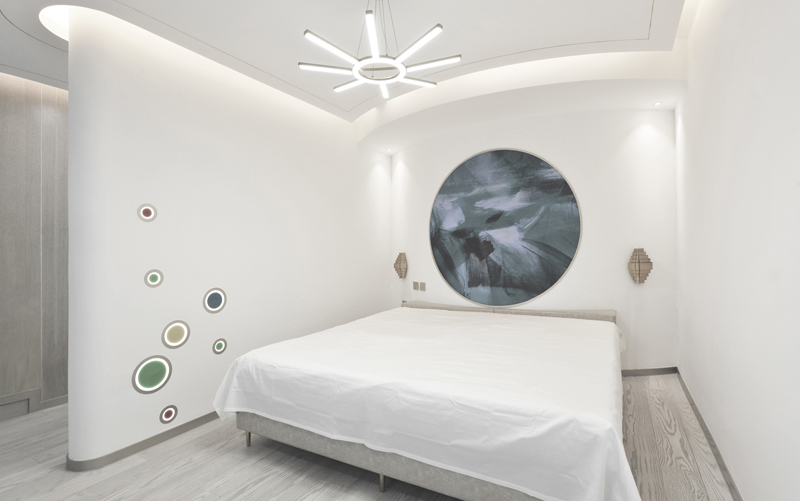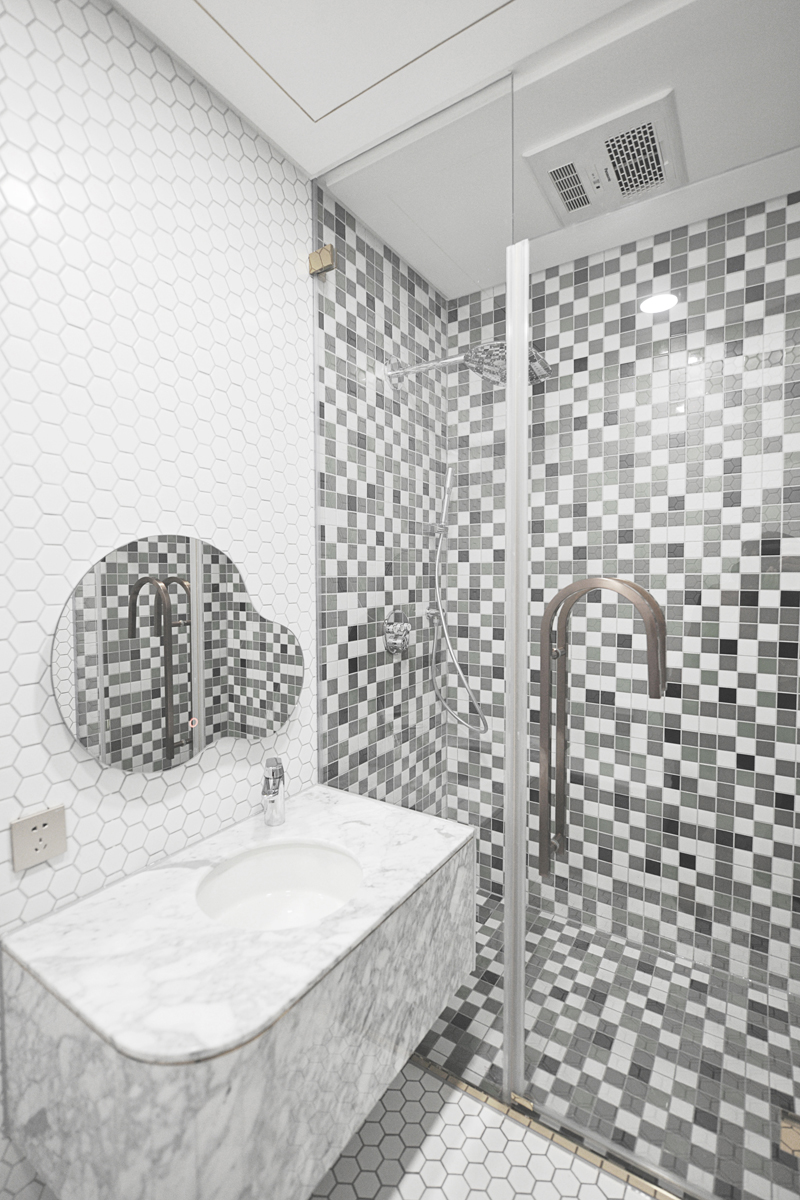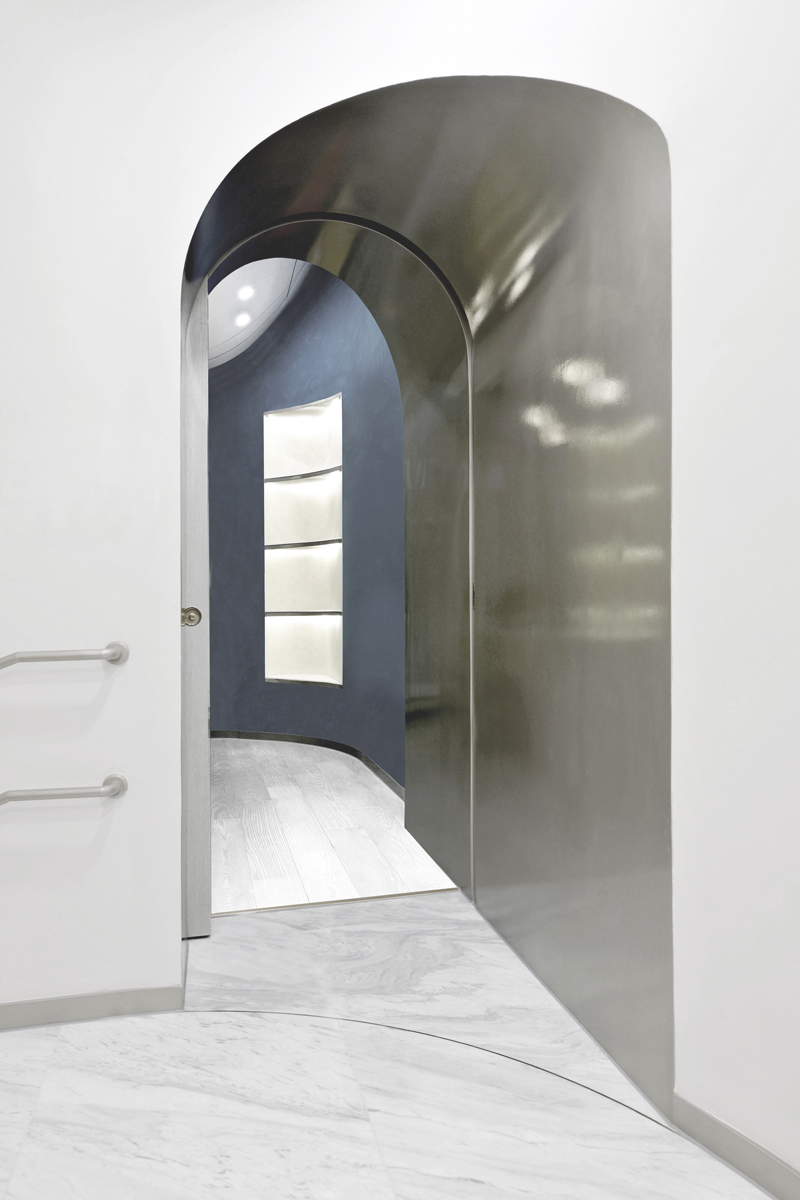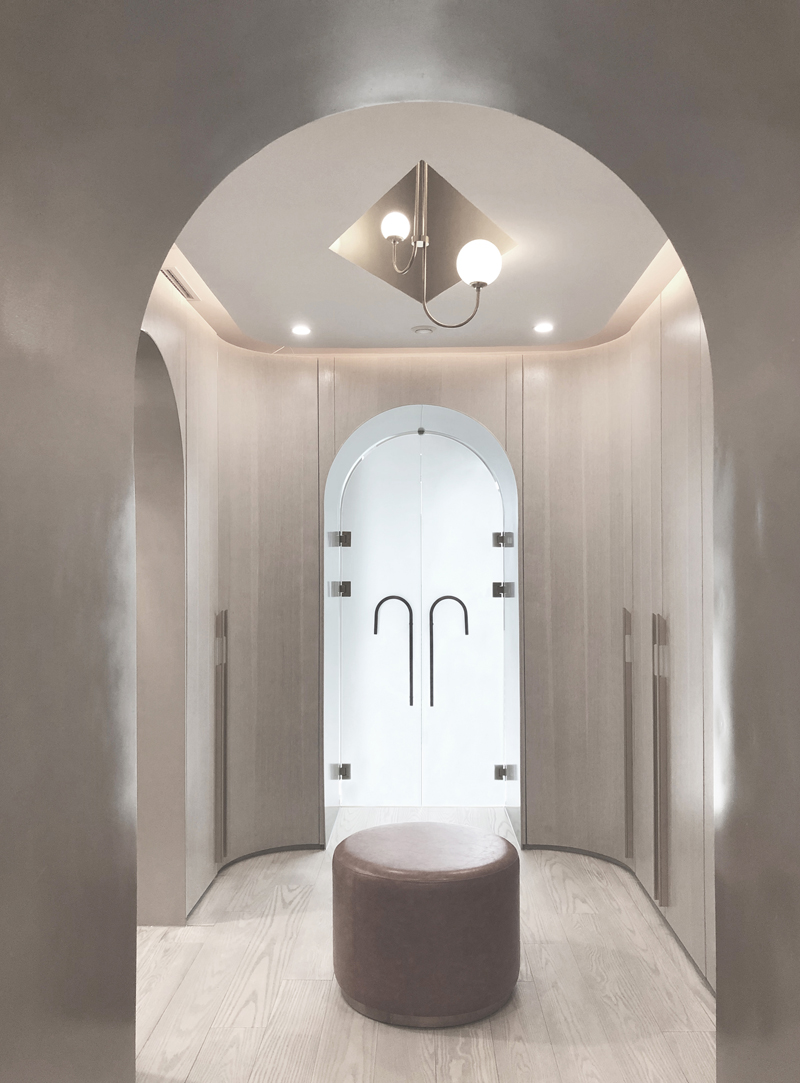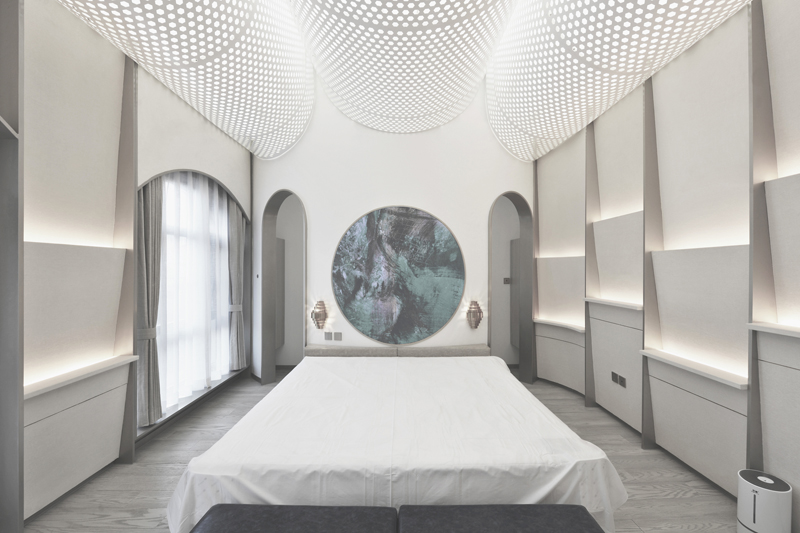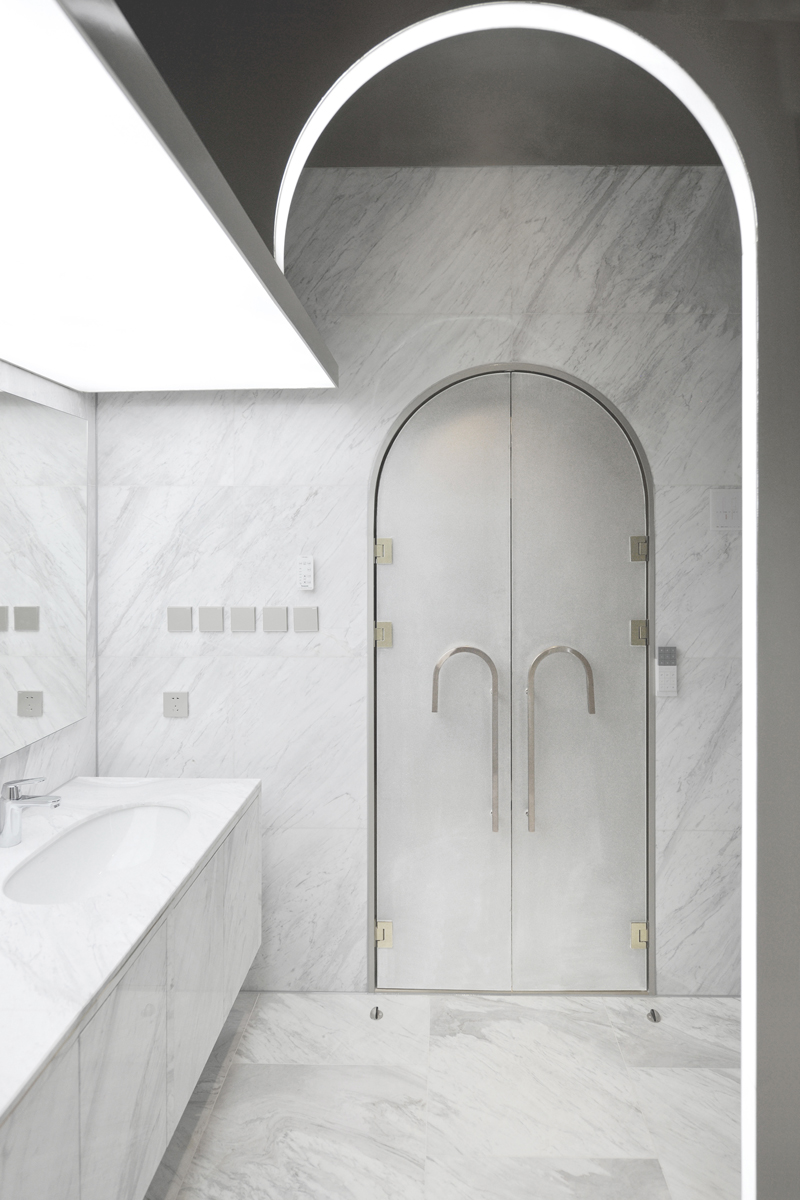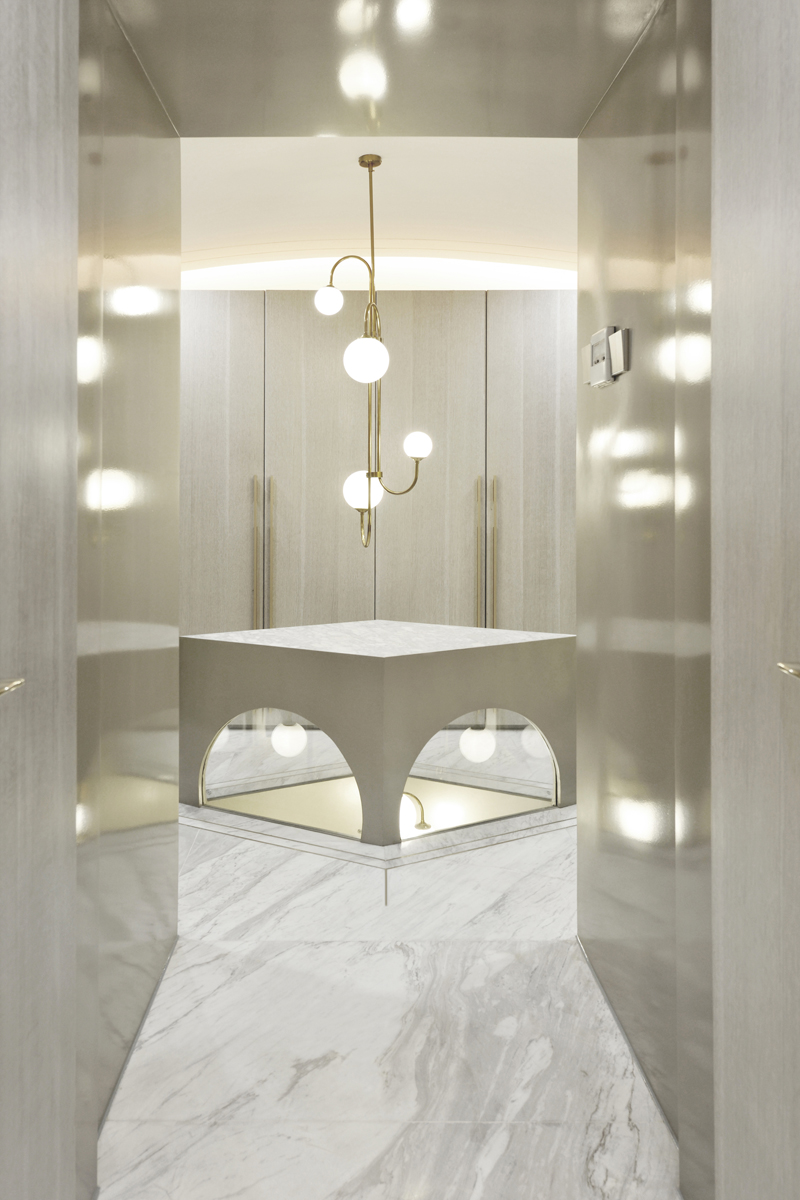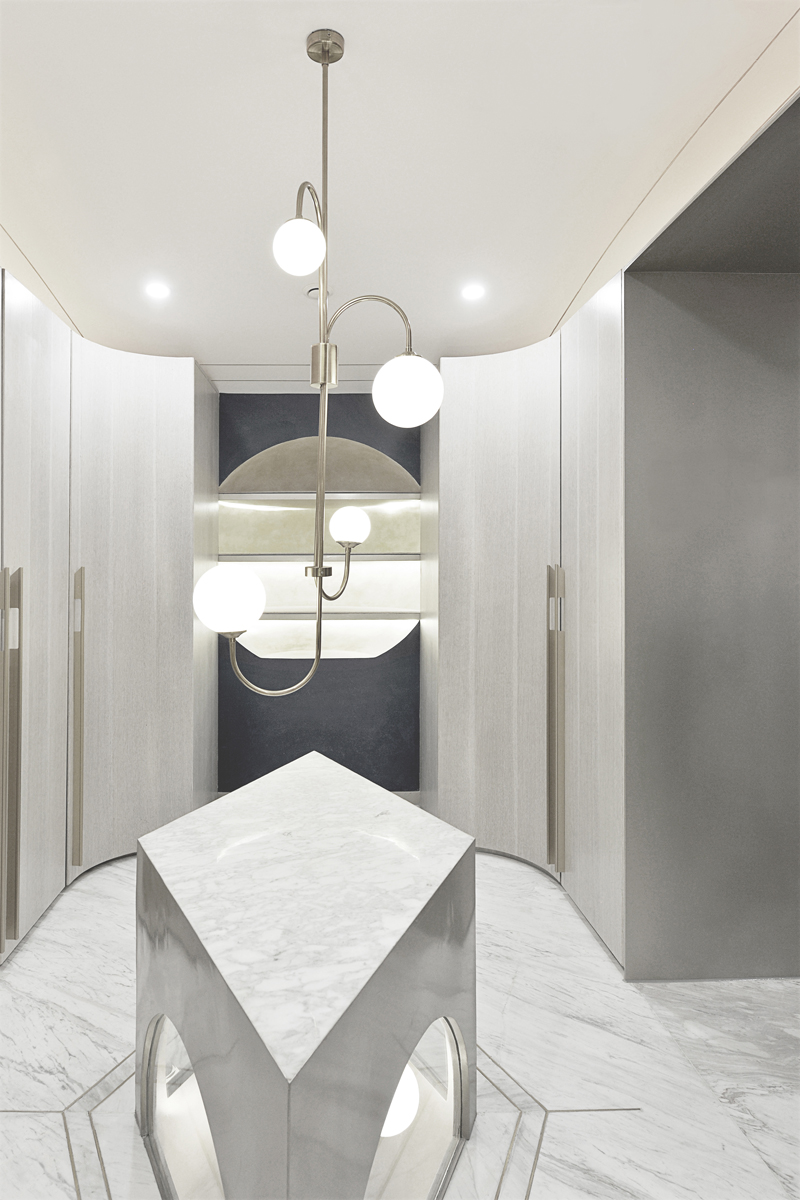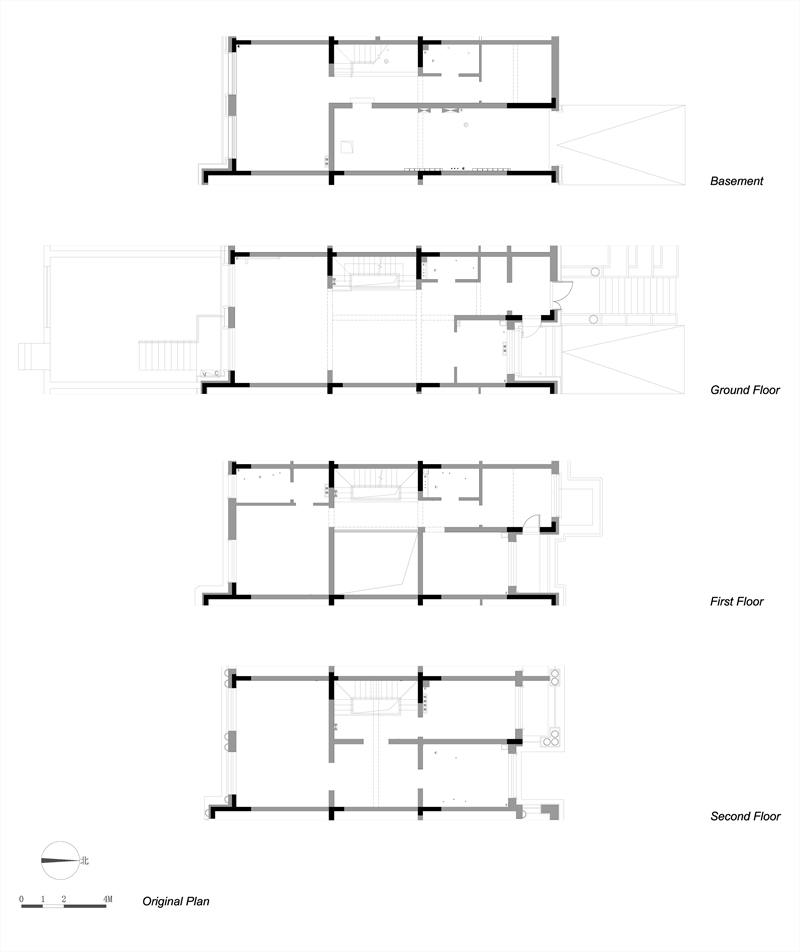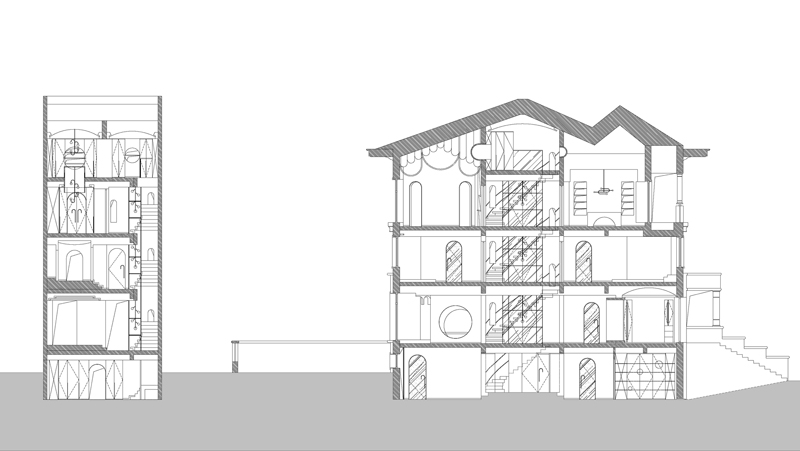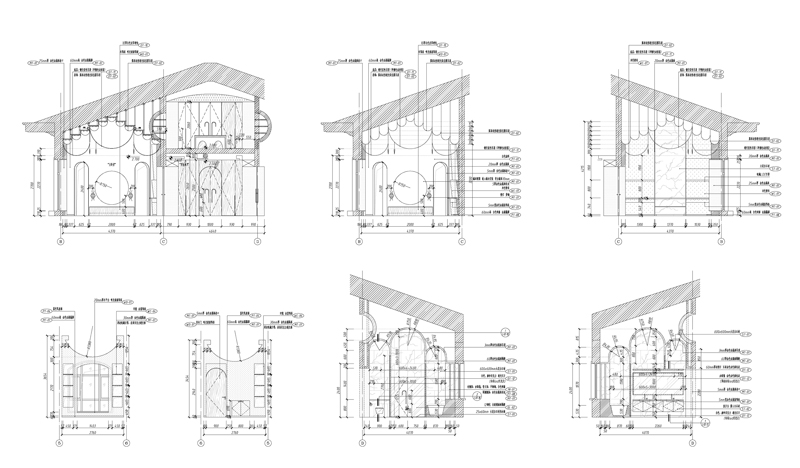 House L
Changchun China
2018-2019
unarchitecte

DESCRIPTION
A property bought by our client, seated in a silent and elegant townhouse neighborhood in Jingyue District of Changchun City, is going to be the main residence for her and her two young daughters in the next decade. It was a newly built villa without any fitment or ornament. Its indoor space, long and transparent from north to south, consists of three levels above ground and one underground, among which there are two areas having extra height of course, one situating on the first floor occupying the space of the second one, another on the third level below the middle peak of gable roof. The main entrance faces north, while the open-air private courtyard is in the south. The facade of the house is prohibited from modifying. The proprietress hopes that each young child can have an independent bedroom.
Four principal adjusts were made to the original spatial layout. The first was to combine the redundant part of garage with scattered surrounding spaces to constitute a hub of the floor underground and, in the meantime, to provide mass storing space for considerable belongings of the client and her children. Secondly the extra high space between two girls' bedrooms on the second level was shaped into an intimate activity space, a tiny castle co-owned by the little princesses. Then a partial fourth level was extended in the extra high center of the third floor, satisfying privy storage needs in further. Finally the staircase was reformed with transparent showcases into an elegant and winding lengthwise channel running through all the five levels of the house.
For a multi-level dwelling with hundreds of square meters, in addition to making full use of the space as much as possible to allow the scale of each functional space appropriate, more important is the overall spiritual temperament. The elegant form and harmonious materials progressively create, level by level, a peaceful environment and an intimate atmosphere.
The architect had researched requirements of different functions of women's homes and children's enlightenment, and comprehensively explored the mobility, relative symmetry, security, ritual sense and visual center of living space. Consequently, the presentation of aforementioned research and exploration is accomplished by the form, surface and volume of arch on the plan and facades of each floor selected as basic elements, by a series of combinations of plain arches, couple arches, superimposed arches and rainbow arches, and by the unitary expression though various materials and corresponding details on
the floors, walls and ceilings. By virtue of the visual tension of arch element, and the dynamic combination of its variations, the whole villa is maneuvered in the transformation, to support and connect each part with a unique rhythm, forming its integral spiritual temperament and space order. This temperament and order has even extended to the south outdoor garden.
The interior space of this mansion is reshaped by combinations of tension, acquiring a clear and continuous readability. For the children, it is not only a cozy home, but also a spiritual paradise for colorful childhood, leading them to explore and to know spatial forms from the perspective of visual consciousness.

INFORMATION
Project Name: House L
Architects: unarchitecte
Website: www.unarchitecte.cn
Email: office@unarchitecte.cn
Architect in charge: Zhang Hetian
Design Team: Zhang Hetian, Sun Qingfeng, Yin Shuangquan, Sun Jihua
Construction Period: 2017-2019
Area: 400 sqm
Address: Changchun City, Jilin Province, China
Photographer: Chai Junhe, Zhang Hetian
Development Company: Personal proprietor
Construction Company: Jilin Overseas Decoration Engineering Co., Ltd.
MaterialsMarble, Stainless steel, Leather
项目说明
在长春南部的净月区,一处清净典雅的联排别墅区内,我们的客户购得一所房产,这里将会是她和两个小女儿未来十年的主要居所。别墅新建,未曾装修。室内空间南北通透狭长,地上三层,半地下一层,其中首层与二层之间有一处挑空,三楼在位于坡屋顶中部下方的区域拥有较高净空。主入口朝北,南侧可通向私家室外庭院。建筑外立面不得改造。业主希望两个年幼的孩子有各自的房间。

建筑师对原始空间布局的主要调整有四个动作。结合车库多余部分及其他周边散碎空间,整合出处于中心位置的过厅,形成了地下层空间的枢纽,考虑到房主与孩子的物品较多,这样做同时也增加了大量的储物空间;将二层两个女儿房之间的挑空部分利用起来,形成孩子的专属活动空间,这里也会成为姐妹共同拥有的小小城堡;利用三层中部层高,增加局部四层,进一步满足私密储物需求;改造楼梯,结合通透的展示柜,形成优雅婉转的贯通五层居所的竖向交通空间。

对于数百平米的多层居所,除了尽可能的充分地利用空间,使各部分功能空间疏密有致,尺度相宜,更重要的是拥有整体的精神性的气质,层层递进,以高雅的形式,协调的材质,营造静谧的环境,亲切的氛围。

建筑师通过对女性家居、儿童启蒙等功能需求的研究,综合对居住空间的流动性、相对对称性、安全感、仪式感、视觉中心等多方面的探讨,进而在各层平面和立面上采用拱形、拱面、拱体的形式作为基本元素,通过单拱、并拱、叠拱、套拱等一系列的组合关系,在地面、墙面、天花、家具、配件上通过各种材料及相应的构造而共同形成的整体表达,完成了对这些研究和探讨的呈现。而整个居所也通过拱形,这个特定元素的视觉张力和其动态组合后的空间变化,在改造中机动调整,以别致的韵律,支撑和联系着各部分空间,形成了整个居所的精神气质和空间秩序。这种气质与秩序,甚至一直延伸到室外南侧的院落。

这样一所别墅的内部空间,就在张力的组合中得以重塑,并具有清晰而连续的可读性。同时作为孩子们的温馨家园,这里也成为了她们从视知觉的角度对空间形式探索和认知的场所,成为了她们美好童年生活精神依托的乐园。

项目信息
项目名称:长春三口之家
建筑事务所:unarchitecte
事务所网址:www.unarchitecte.cn
邮箱:office@unarchitecte.cn
主创建筑师:张赫天
设计团队:张赫天,孙青峰,尹双权,孙继华
地点:吉林省长春市
建设时间:2017-2019
占地面积:400m2
摄影:柴君赫,张赫天
建设单位:私人
施工单位:吉林省海外装饰工程有限公司
主材:大理石,钢板,皮革
Manufacturer and Brand Info
Construction Company: Jilin Overseas Decoration Engineering Co., Ltd.
OSB: FRITZ EGGER
Marble: Ajax
Plasterboard: Saint-Gobain
Glue: Henkel
Central air-conditioning: Mitsubishi
Fridge: Liebherr
Bathroom: Kohler, Villeroy & Boch, Grohe
施工单位及产品品牌
施工单位:吉林省海外装饰工程有限公司
欧松板:爱格(奥地利)
石材:爵士白(意大利)
石膏板:圣戈班(法国)
胶水:汉高(德国)
空调:三菱(中国)
冰箱:利勃海尔(德国) 卫浴:科勒(美国)、唯宝(德国)、高仪(德国)