Climbing Park of Luofu Mountain
建成项目
back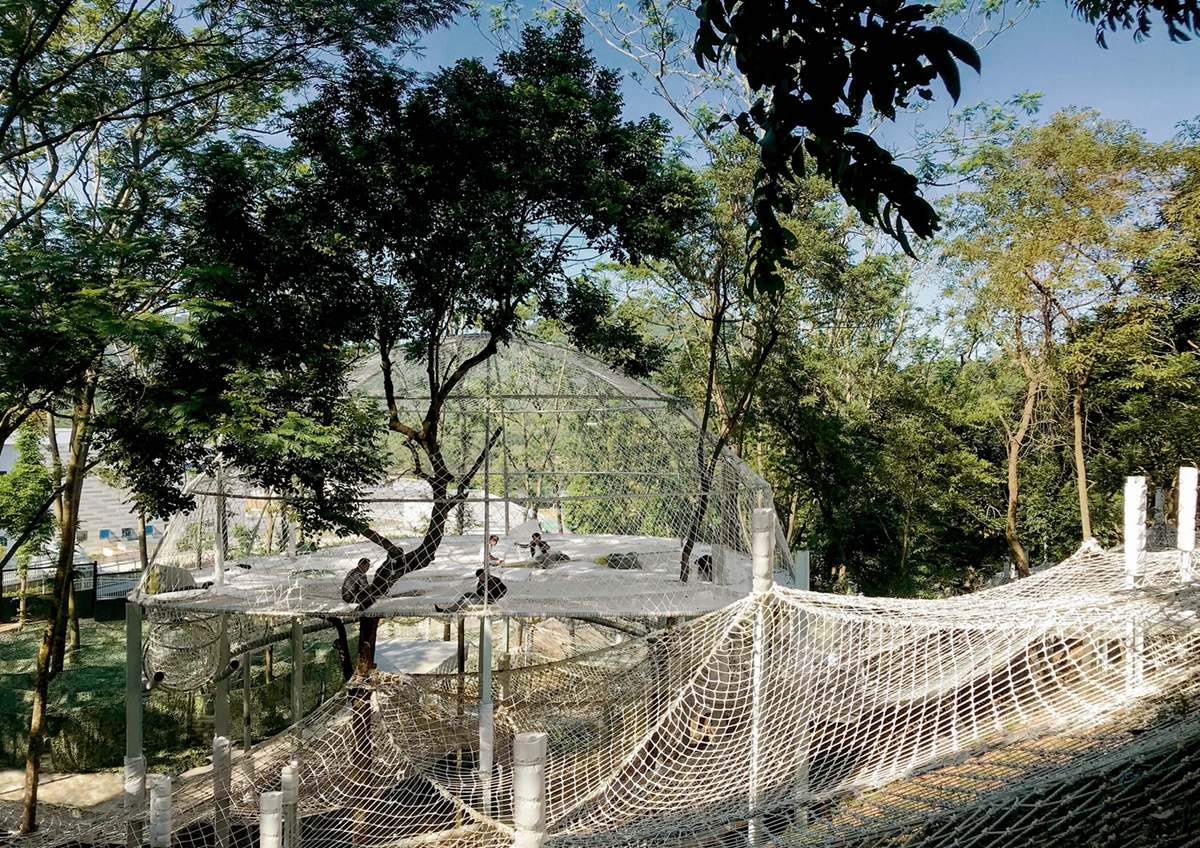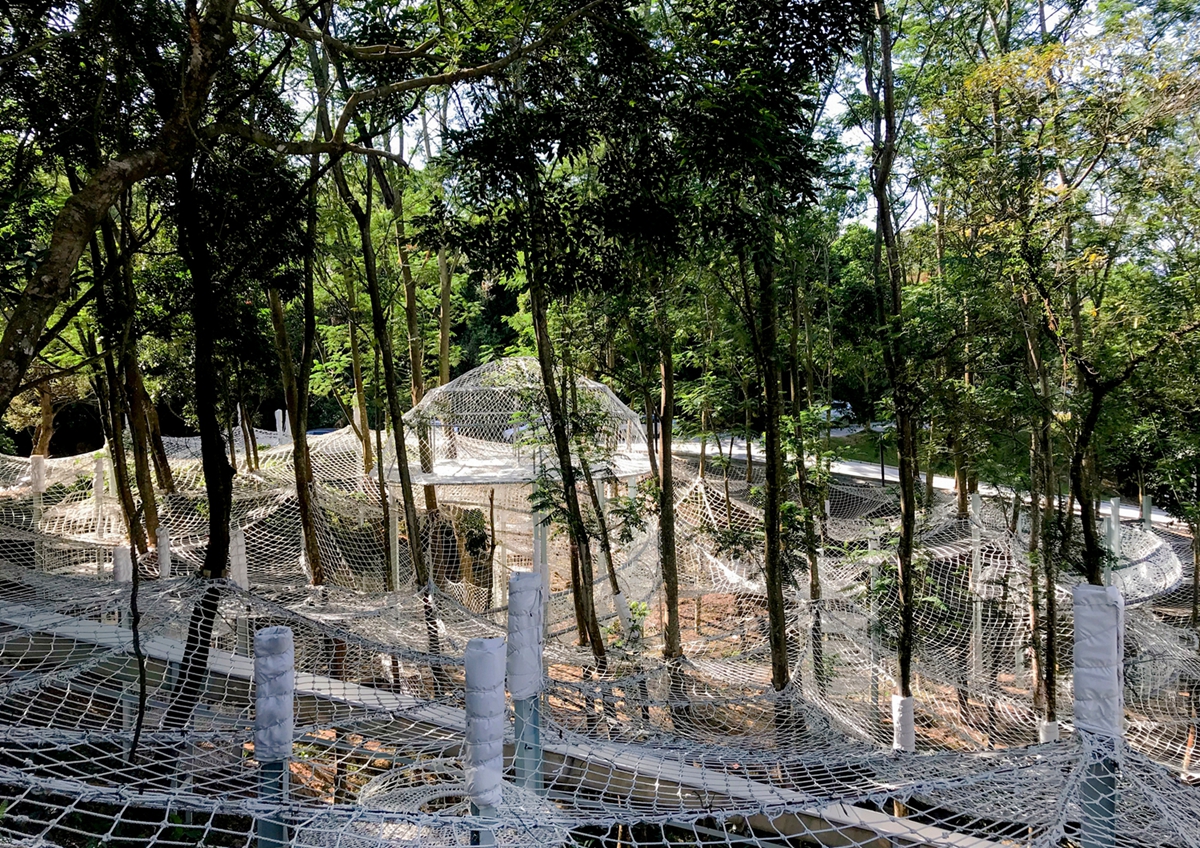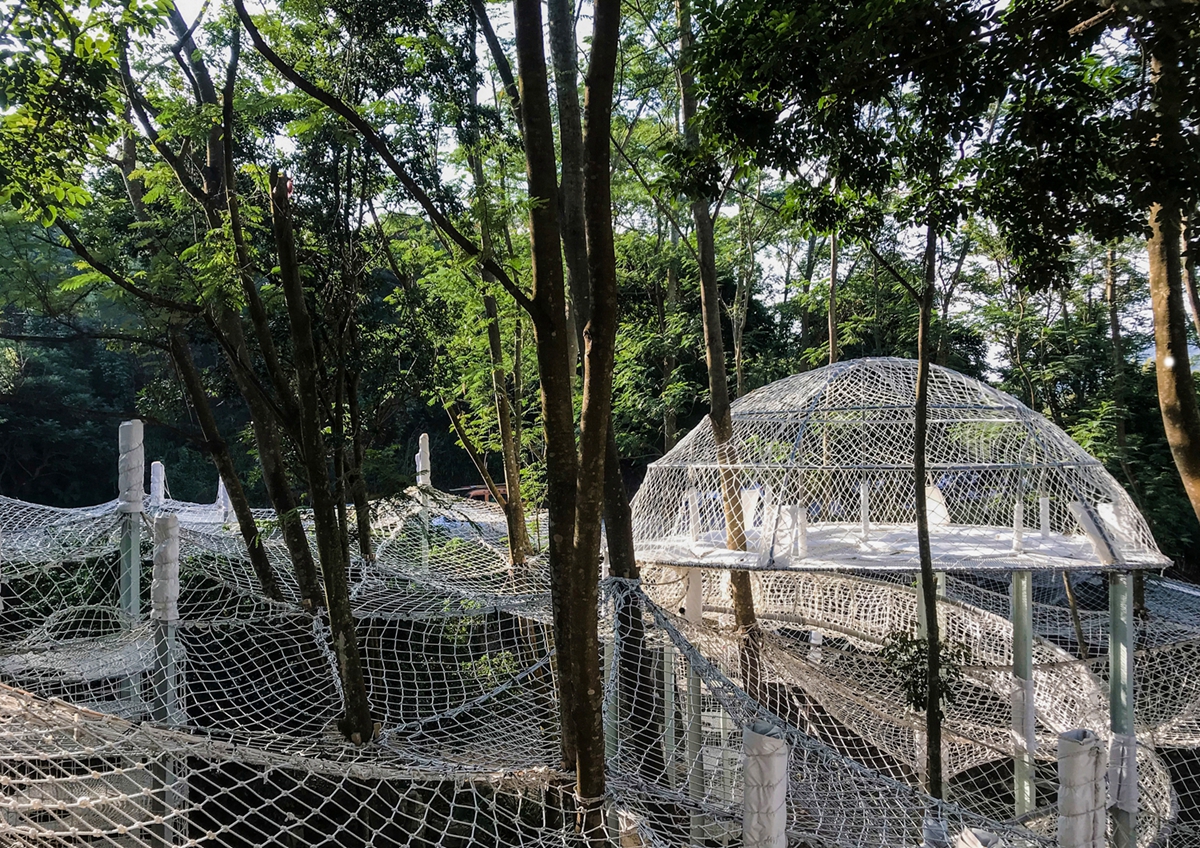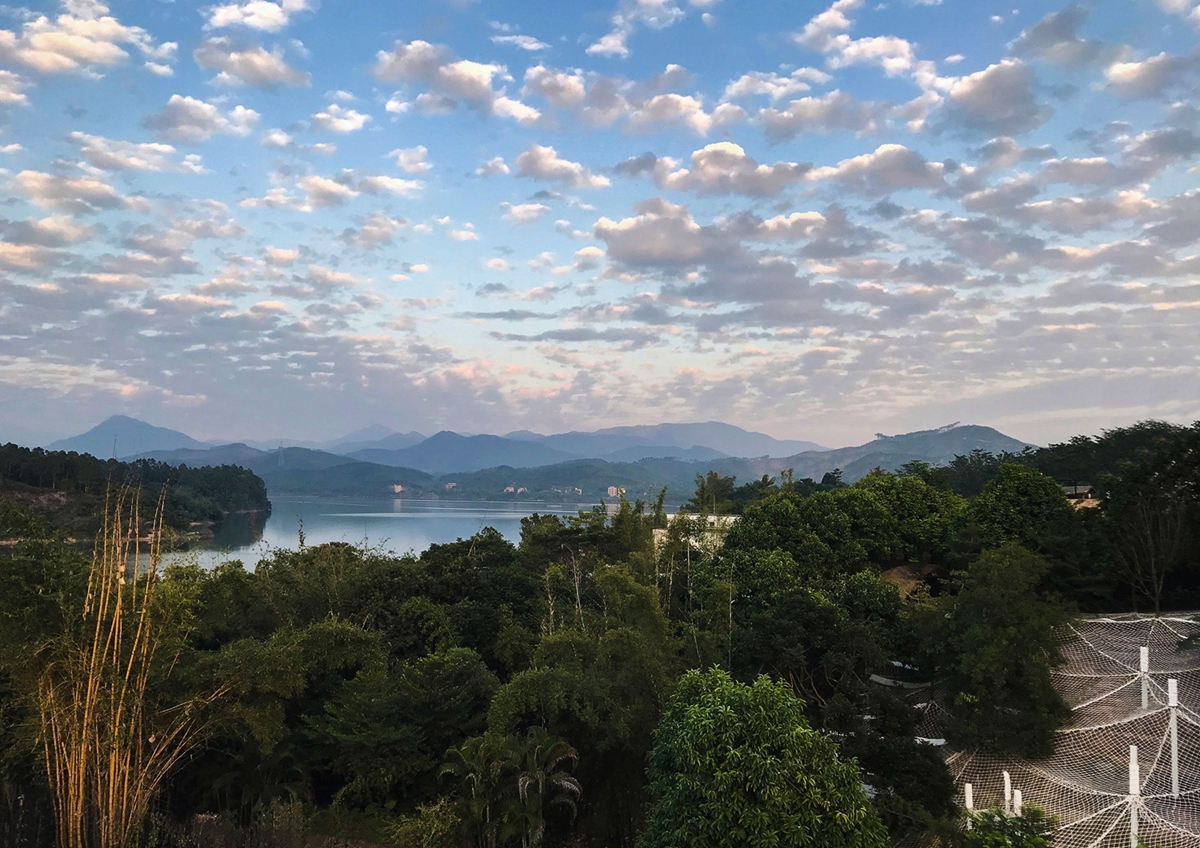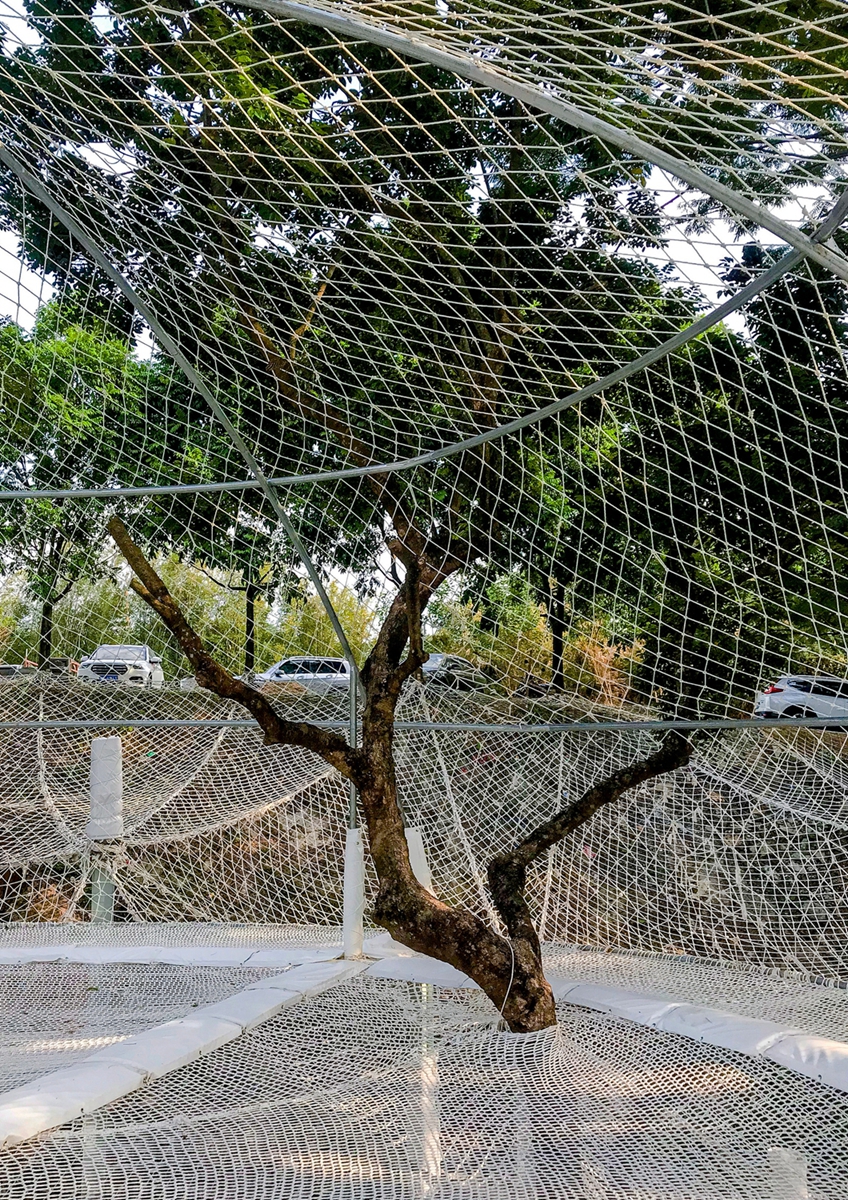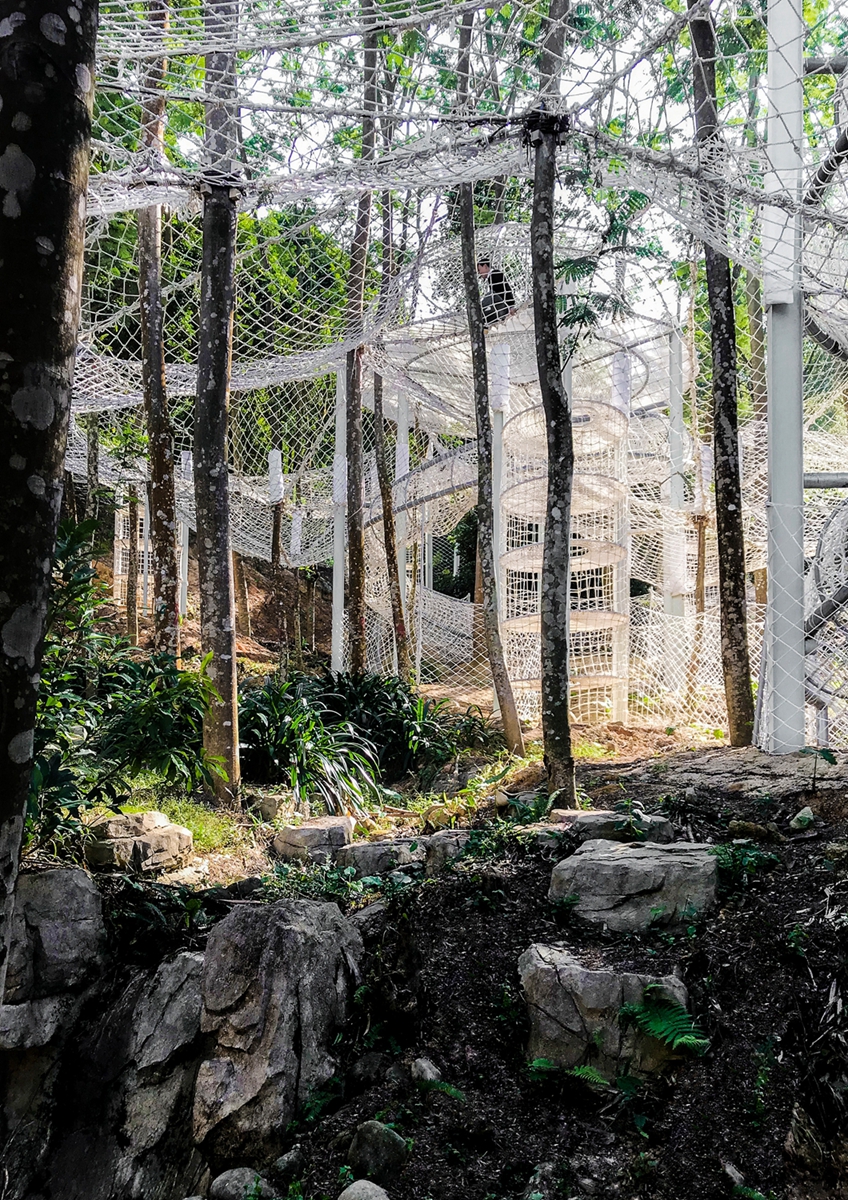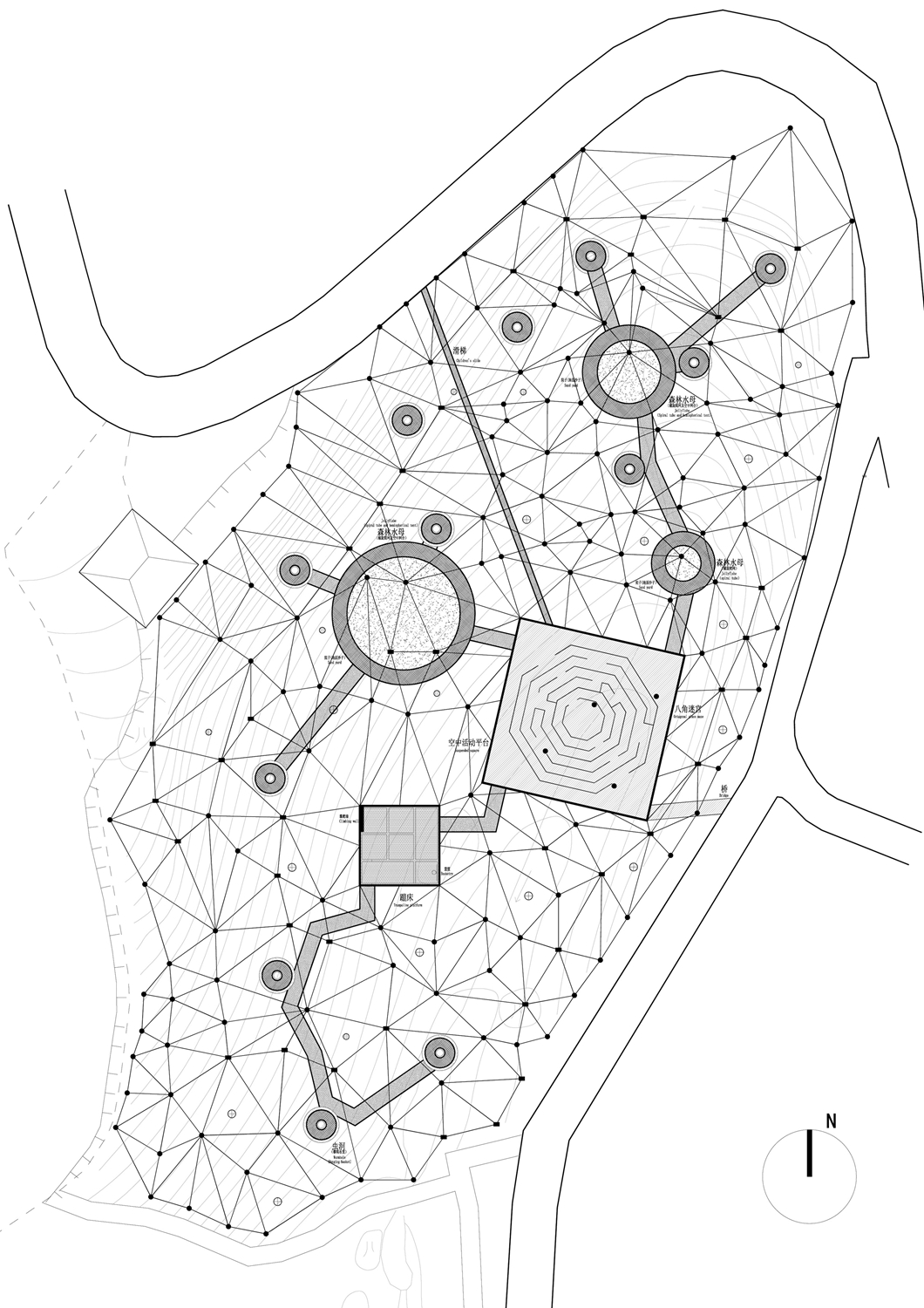 Climbing Park of Luofu Mountain
Canton China
罗浮山谷林攀爬乐园
广东 中国
2017- 2018
unarchitecte
Lying in mountains with a lake by side, the School Affiliated to Luofu Mountain Chinese Classics Institute in Guangdong province covers an area of over a hundred acres. Inside of the school, hundreds of evergreen trees flourish in a tiny valley. The school authorities hope to make use of the valley for outdoor activities, so that children can enjoy happy physical education.
A forest can become a place for children to return to nature, to explore and to think, to sweat and to sit still alone. In the nature, they can forget themselves and can also search for their inner selves. Building a climbing system, architects connect all the trees in the valley by hundreds of diverse white triangle nets to constitute a combination of various topological folding surfaces like a "white sea" for children to swim carefree. Hanging baskets located in high or low levels are called "wormholes" by students. These cages are linked to each other in several round yards at the bottom of the valley. A slender ladder slides straight down from the top of one side of the valley to the swings on sand above which an octagonal glass maze stands on a suspended square; next to the sand dune is the trampoline platform. What's more, two huge spiral tubes and hemispherical tents embrace students inside of them, floating among the crowns of trees as crystal jellyfishes drifting on the sea. Thanks to the system, children have intimate access to the great nature in different height, to make houses for squirrels, to sing with birds and to enjoy the sunshine glistening through the leaves. In rough-and-tumble play, they build up friendship and learn to help each other; in silence exposed in nature, they picture the truth of beauty. Unconsciously, they grow up physically strong and mentally positive.
No tree was cut down during the construction except those already withered. In the basic climbing system, every side of triangle nets is fixed on a tree by solid steel wire ropes with sleepers in order to protect the plants. When the gap between boles was too wide or the bole was not strong enough, columns were set to serve as a supplemental support posts. To some extent, the whole forest is a unit, with a second safety net under the higher system. In the year of construction, no trees fall down although frequently attacked by typhoon. It is convenient to get in and out through multiple exits set on the ground and in the aerial structure. In addition the scope of activities is defined by yards and corridors on the ground, which is easy to administrate and to ensure the safety of students.
This cute valley is a paradise for adults as well. Many parents who came with their children from surrounding cities have also retrieved their own joy of childhood. So you have one more place to communicate with nature in Luofu Mountain. Here, everyone is a child.
Project Name : Climbing Park of Luofu Mountain
Architects : unarchitecte
Website : www.unarchitecte.cn
Email : office@unarchitecte.cn
Architect in charge : Zhang Hetian
Design Team : Zhang Hetian, Cai Feiyong, Zheng Zhihua, Sun Qingfeng, Sun Jihua, Wang Enzi
Completion Year : 2018
Area : 5000 sqm
Address : the School Affiliated to Luofu Mountain Chinese Classics Institute , Boluo County,
Huizhou City, Canton Province, China
Photographer : Zhang Hetian
Development company : the School Affiliated to Luofu Mountain Chinese Classics Institute
Construction company : Beijing Changchenghuayao Decoration Engineering Co., Ltd
Materials : polyester net
(NB: Maybe it is one of the biggest polyester-net climbing parks, specially built for school, in the world.)
围绕着自然的编织——罗浮山谷林攀爬乐园

广东罗浮山国学院附属学校依山傍水,占地百余亩。其间一个小小的山谷,生得数百棵高挑的树木,郁郁葱葱,四季常青。校方希望这里可以成为孩子们的活动场所,寓教于乐。
深谷幽林,是孩子们探索自然,回归天性的乐园。自然万物和谐共存,每一棵树木的生命都有自己的存在的意义。除了枯树,我们没有砍伐一棵树木,而是用数百张大小不同的白色三角形爬网,将山谷里所有的树木连接在一起,形成绵延拓扑的折面。攀爬网表面的每片三角形绳网都通过钢丝绳作为主索来固定三边。为了不影响树木的生长,钢索通过枕木与树干连接,且在树木间隙较大或缺少足够强壮的树干的地方设立柱体作为补充的支撑点。攀爬网和森林形成了伴生的关系,使整片森林在某种意义上形成了一个整体,并在水平层面形成一层拓扑状的保护网。在为期近一年的施工过程中历经多次台风,没有任何树木倒下,围绕着森林编织的绳网有机的成为了森林的一部分。
远眺这片白色的攀爬网,如同森林中跌宕起伏的白色海平面,任凭孩子们自在的浮游。两组巨大的螺旋上升的管状爬网及半球状的空中网台,犹如剔透的水母将孩子们托含在体内,高高的漂浮在"海面"之上。分布在各处的高低错落、层层叠叠的吊笼被孩子亲切的称之为虫洞,它们通过谷底的几个圆形院子相互连接。狭长的滑梯从谷顶的一侧直下,进入承载着八角玻璃迷宫的方形空中活动平台的下方,那里有秋千和起伏的沙地,由此还可通往蹦床平台。整个网绳体系在地面及空中网体上设有多处出口,方便出入,同时通过院落和甬道界定了谷底地面上的活动范围,便于管理,并确保孩子们的安全。攀爬网下秩序井然,而在攀爬网的表面,则是一个自由的世界。攀爬的过程永远不会重复相同的路径,沿着围绕树木编织的绳网攀爬,是一个用身体感知自然多样形态的旅程。身体的每一次摇摆,都摇动着森林的触角;双手的每一次拉拽,都牵拽着森林的网衫。孩子们盘踞在树冠之间,在不同的高度上,最大限度的亲近自然,融入自然,为松鼠安家,与鸟儿吟唱,沐浴阳光与树荫,于追逐和互助间结识同伴,处静默时同自然共绘芳华,在无忧无虑之中不知不觉的成长。

这片攀爬网没有固定的边界,它可以随时根据树木的形态水平向外蔓延,伴随着森林一起生长。孩子们的探索也没有边界,攀爬网提供了无尽的未知,他们在此探索与思考,挥汗与独处,忘我而又在寻找自我。这片小小的山谷同样是成年人的乐园。很多家长带着孩子从周边的城市赶来,伴随着孩子们攀爬的同时,却让自己也找回了童年的欢愉。就这样罗浮山多了一个与自然交流的处所,在这里所有人都是孩子。
项目名称:罗浮山谷林攀爬乐园
建筑事务所:unarchitecte
事务所网址:www.unarchitecte.cn
邮箱:office@unarchitecte.cn
主创建筑师:张赫天
设计团队:张赫天,蔡妃永,郑志华,孙青峰,孙际华,王恩紫
地点:广东省惠州市博罗县罗浮山国学院附属学校
建成时间:2018
占地面积:5000m2
摄影:张赫天
建设单位:罗浮山国学院附属学校
施工单位:北京长城华耀装饰工程有限公司
主材:涤纶绳网
( 附注:这也许是世界上最大的专属于一个学校的涤纶绳网攀爬体系之一。)